NetFoos Sponsor's T-Shirt Request Form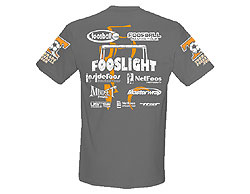 Please login with your NetFoos Tournament Software Admin login below to request your two FREE NetFoos 2009 Sponsorship T-Shirts.
In order to qualify for this offer you must be one of the "Top Forty" NetFoos Active Accounts. Please place your order request by 7/4/2009 to have your request processed in our first batch. If you have any questions, or want to cofirm if your account qualifies, please
contact us
.
Thank You For Supporting Our Sponsors!
PRE-ORDER T-SHIRT OFFER COMPLETE
We will post here again for any additional promotions
NOTE: In order to streamline this process of shipping these free t-shirts we will be running the "transactions" through PayPal. A small 25 cent transaction will be charged to your PayPal account, which then puts your order into our systems and allows us to use PayPal shipping tools -- this saves us a ton of time. We are sorry for any inconvenience regarding the required PayPal transaction, however the amount of time this saves allows us to make this and future promotions even better. Thank You For Your Support!